Welcome to Sobuj Soumideep
Sobuj Soumideep (সবুজ সৌমিদীপ) is an independent venture of Sobuj Soumideep Foundations, a Social Welfare organization, established under the registered Board of Trusty. We are desirous of promoting an AYUSH Wellness Retreat/community for like-minded people, who believe in Holistic Life, nourishing fresh Air, Sunshine, and vitality of life provided in abundance by Mother Nature. Sobuj Soumideep Wellness Retreat practices naturopathy as a sustainable development programme on your health by removing the toxic part in your Body with little change in lifestyle along with diet, exercise under our guidance after a preliminary assessment of your health condition. Sobuj Soumideep is a promise of fresh joy of getting recharged and rejuvenated health. It is located at Santiniketan, Bolpur, covering 3 acres of land with more than 75% are open space is an integral part of Nature and Ecosystem. Fresh air, ample sunlight, the murmur of trees, twittering of birds, and the buzzing of Bees make it an oasis away from the din and bustle of city life. We welcome you for the experience of this natural joyous life. 
---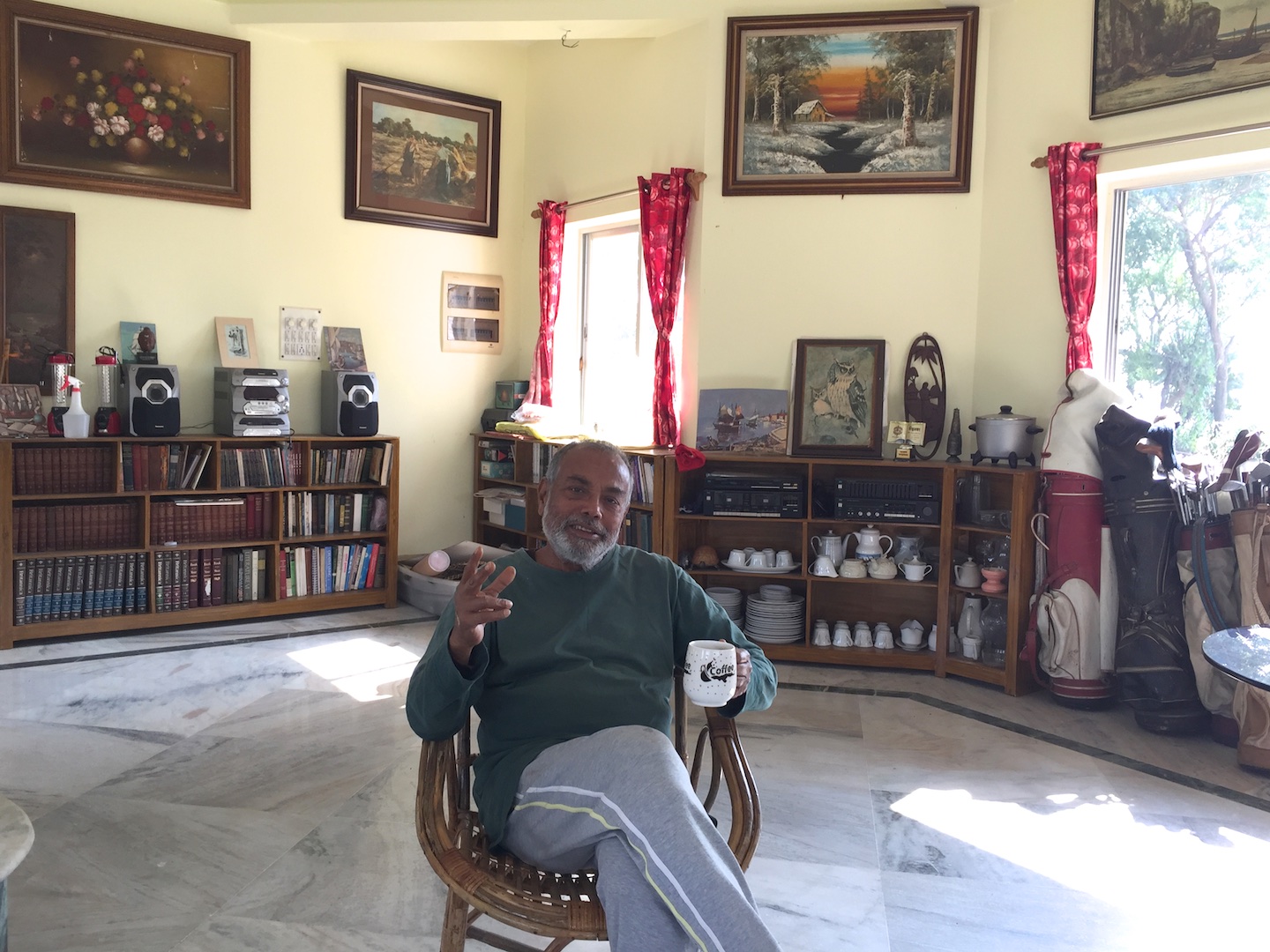 Mr. Pradip Kumar Biswas, A Man With A Dream!
Pradip Biswas, a life-long health-conscious person, fully active in his early seventies observes that the health conditions deteriorate as a result of a combination of stressors like pollution, stress, age, bad lifestyle, unhealthy eating habits, faulty ergonomics, anxiety, depression, etc. Determined to improve the scenario, after retiring from a renowned multi-national company, he decided to establish SOBUJ SOUMIDEEP. He thinks a virtual 'rebooting' of our systems calls for scaling down our exposure to these stressors and hence a need for residential packages where you are guided into a whole new healthy routine that is easy and practical to adopt.
---
Features
We offer a variety of economical residential wellness packages for socially bounded like-minded people, who believe in Holistic Life. These range from a 3-day check-up and analysis with some therapies, up to 4 weeks or more of intensive therapy. All packages include Accommodations, Meals, Yoga Sessions, Therapy Sessions, Internet Access, Access to all retreat facilities.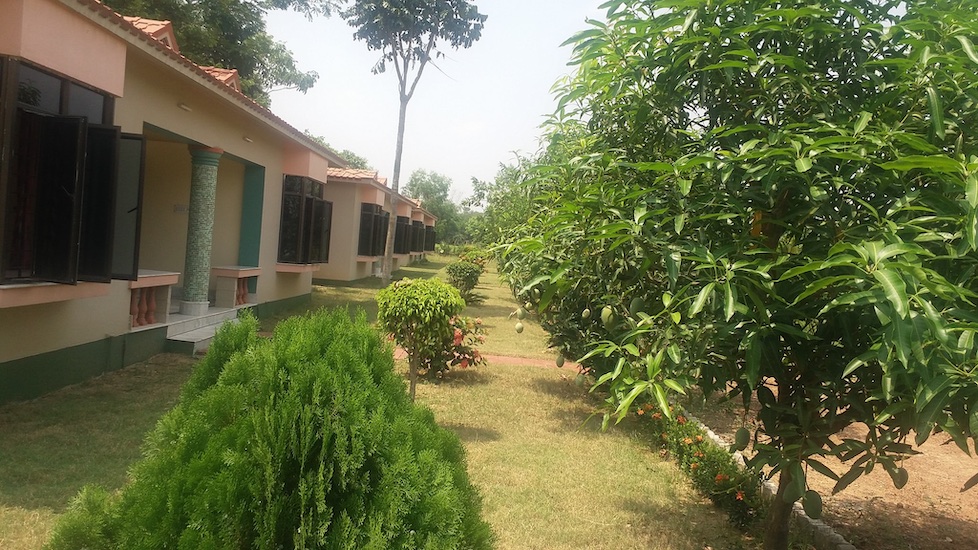 Cottages in 10 Bighas With 75% Open Space
Nature is an integral part of our ecosystem, so enjoy fresh air, ample sunlight, the murmur of trees, twittering of birds, and the buzzing of bees.
We are desirous to establish Sobuj Soumdeep an AYUSH Wellness Retreat/Community for Socially bounded like-minded people, who believe in Holistic Life, Nourishing Fresh Air, Sunshine, and the Vitality of Life provided in abundance by Mother Nature. Sobuj Soumideep is a reflection of the artist and architect's mindscape spread across 3 acres of land with more than 75% are open space.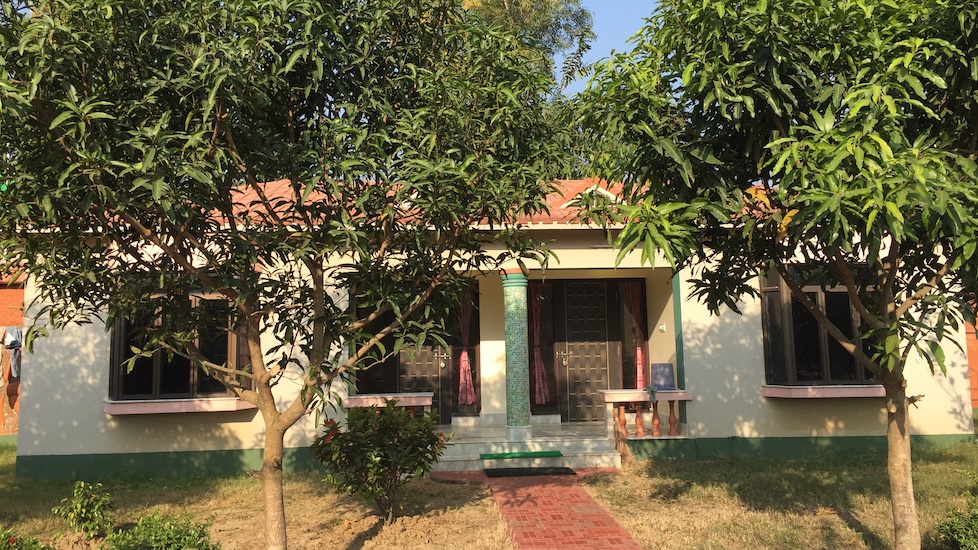 Accommodations with Modern Amenities
Well ventilated, furnished, and compact rooms with basic amenities and attached bathrooms.
We provide well maintained, fully furnished, properly ventilated, and compact rooms with basic amenities and attached bathrooms. This offers affordable accommodation, ideal for those looking for treatments and accommodation at an affordable rate. Only fresh vegetables and natural ingredients are used to make the food. Thus the food prepared is rich in nutrition and helps promote vitality and immunity.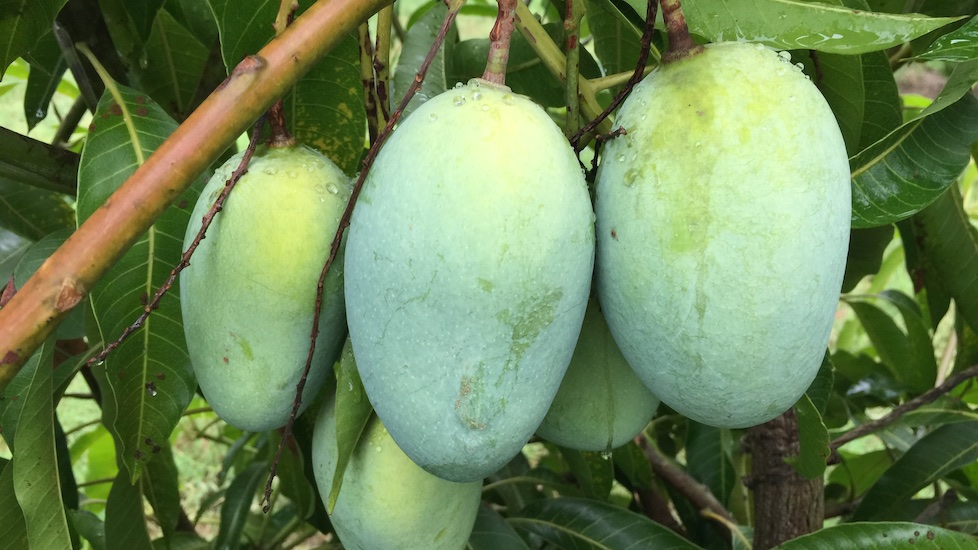 Wellness Diet for Holistic Living
The food provided includes organic vegetables, fruits, and ingredients rich in nutrition for vitality and immunity.
Good health is not conceivable without a healthy diet, which must be natural, nutritious and tasty. Guests are also helped to understand that if the diet is right, health will automatically follow. Emphasis is on seasonal fruits and vegetable. We try to provide Foods that is as close to their natural state as possible, Foods that is free of chemical additives and preservatives, and Organic foods that are as fresh as possible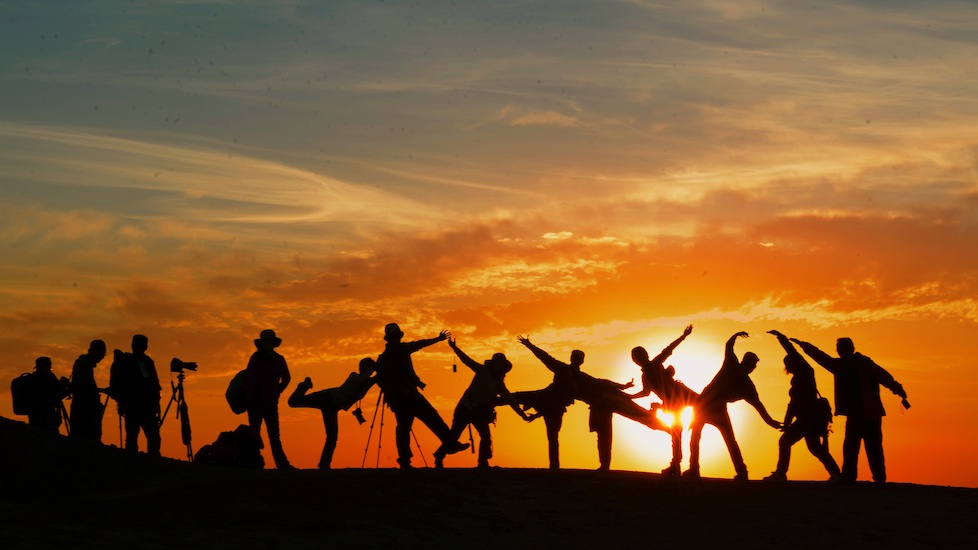 Yoga & Therapy Sessions For Self-Healing
Improvement of physical health by enhancing circulation of oxygenated blood in the body, inducing tranquility and serenity of mind.
The Yoga and Therapy Sessions incorporate the whole person, not just the physical body - it promotes the balance between body, mind, emotions, and spirit. Through awakening individuals' awareness and inherent self-healing powers, physical diseases, and mental stress are managed and relieved. There is an emphasis on awareness and aspirants are encouraged to learn about all aspects of their personality through Therapy Sessions.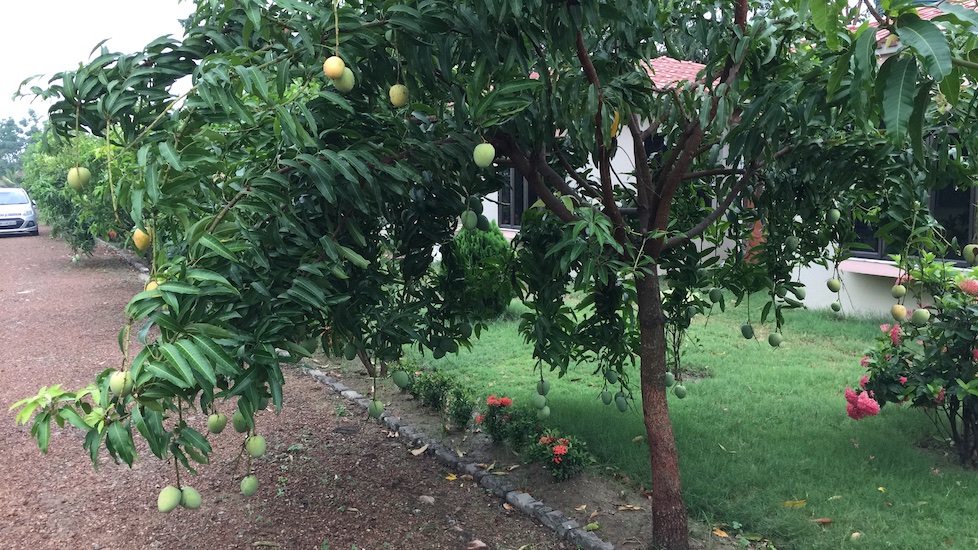 Work From Nature In Post-Covid New Normal
Why just to work from Home and confine yourself, instead work from a Cottage in a 10 bighas land enjoying Fresh air, ample sunlight, the murmur of trees, twittering of birds.
Unlike working from home, while working from Nature at Sobuj Soumideep, you don't have to do any of your cooking or cleaning or even worrying. Your hunger pangs will be answered with freshly cooked homely food directly from our kitchen. Housekeeping is all time ready for your cleaning chores. You may work all week long in nature with a lot less stress and exhaustion indeed. And choose to go out and visit the wonderful places around you.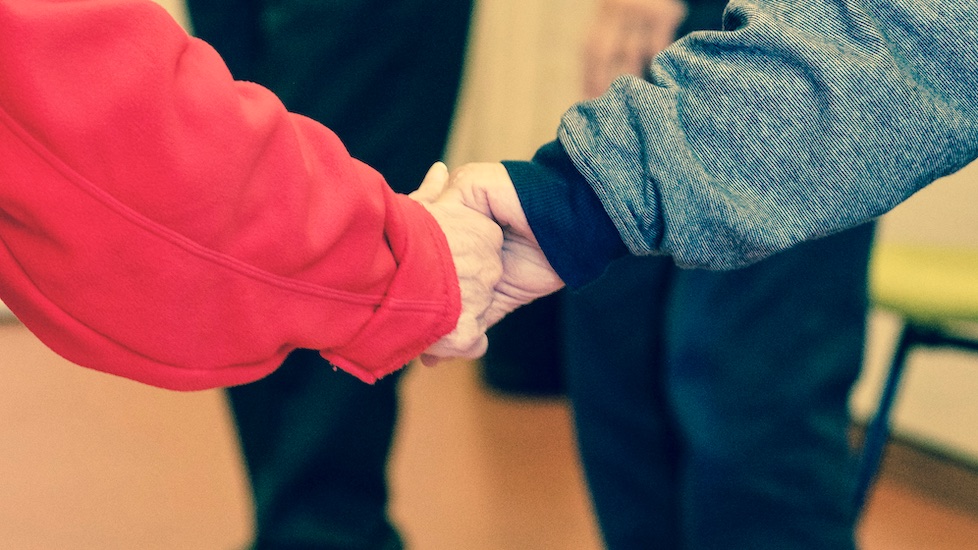 Residence for Senior Citizen
Old-Age Home/ Community Living for socially bounded like-minded elderly people, who believe in Holistic Life!
We desirous to provide every services required for elderly people by addressing Psycho-emotional concerns (viz. isolation, mental stress, difficulty in keeping themselves occupied), which is one of the major issues for elderly people. So to overcome this issue, we have lots of in campus activities to keep elderly memeber engaged, which will help breaking the monotonus life of the elderly people.
---
Our Services
We are trying to establish ourselves as a single-point destination for all wellness related services! Here is the list of main services we offer. It also takes responsibilities for your special need.
Naturopathy
Naturopathy is an art and science of healthy living and a drugless system of healing based on its concept of health and diseases and also the principal of treatment. Nature cure does not believe in the specific cause of disease and its treatment but on holistic viewpoint and takes into account the totality of factors responsible for the disease and also consider environmental factors involved,  which on the whole disturb the normal functioning of the body and lead it to a morbid, weak and toxic state. The system presumes that the human body is a harmonious whole of 5 great elements that create nature, and diseases occur when this internal harmony is lost due to toxins accumulated in the body as a consequence of an individual's faulty lifestyle. The only way to heal the disease is to bring back the elemental balance in the body by following disease-specific protocol, which will fortify and activate the body's innate power to heal.
Yoga
Yoga is one of the six systems of Vedic philosophy. Maharishi Patanjali advocated the eight folds path of Yoga, popularly known as "Ashtanga Yoga" for the all-round development of human beings. They are- Yama, Niyama, Asana, Pranayama, Pratyahara, Dharana, Dhyana, and Samadhi. These components advocate certain restraints and observances, physical discipline, breath regulations, restraining the sense organs, contemplation, meditation, and samadhi. These steps are believed to have a potential for improvement of physical health by enhancing circulation of oxygenated blood in the body, retraining the sense organs thereby inducing tranquility and serenity of mind. The practice of Yoga prevents psychosomatic disorders and improves an individual's resistance and ability to endure stressful situations.
Wellness Diet
Good health is not conceivable without a healthy diet, which must be natural,  nutritious, and tasty. Guests are also helped to understand that if the diet is right, health will automatically follow. Emphasis is on seasonal fruits and vegetables.
Accupuncture
Acupuncture is a Chinese system of medicine, which involves the insertion of fine needles at specific points (acupoints). Needling the acupuncture points influence the meridians, unblock the obstructions and re-establish the energy flow through the meridians, thereby balancing the internal energy, healing the body.
Physiotheraphy
Physiotherapy is another time-tested drugless technique widely used as manual therapy, exercise therapy, and electrotherapy to promote movement impaired by medical reasons or by degeneration. It aims to help patients maintain, recover, or improve their physical abilities.
Homoeopathy
Homeopathy simply means treating diseases with remedies, prescribed in minute doses, which are capable of producing symptoms similar to the disease when taken by healthy people. It is based on the natural law of healing- "Similia Similibus Curantur" which means "likes are cured by likes". It was given a scientific basis by Dr. Samuel Hahnemann ( 1755-1843) in the early 19th century.
Ayurveda
Life in Ayurveda is conceived as the union of body, senses, mind, and soul. The living man is a conglomeration of three humors (Vata, Pitta &Kapha), seven basic tissues (Rasa, Rakta, Mansa, Meda, Asthi, Majja & Shukra), and the waste products of the body i.e. mala, mutra, and sweda. Thus the total body matrix comprises of the humors, the tissues, and the waste products of the body. The growth and decay of this body matrix and its constituents revolve around food which gets processed into humors, tissues, and wastes. Ingestion, digestion, absorption, assimilation, and metabolism of food have an interplay in health and disease which are significantly affected by psychological mechanisms as well as by bio-fire (Agni).
Ayurvedic Medicine
Regulation of Ayurveda, Siddha, and Unani and Homeopathic (ASU&H) medicines in India is governed under the provisions of Drugs & Cosmetics Act, 1940 and the Rules thereunder. It is based on the national policies on Health-1983 & 2002, National AYUSH Policy- 2002, and strategies for standardization, quality control, research & development, and consumers' safety. Growth & development of traditional Indian and homeopathic medicines in the interest of public health is expected within the objective of making accessible safe, effective, and quality medicines to the people. 
Medicinal Plants
Medicinal Plants form the major resource base of our indigenous health care traditions. The outreach and acceptability of AYUSH systems, both nationally as well as globally, are dependent on the uninterrupted availability of quality medicinal plants based raw material. More than 90% of the species used in trade continue to be sourced from the wild of which about 2/3rd are harvested by destructive means. The Cultivation of medicinal plants, therefore, is the key to meeting the raw material needs of the AYUSH industry.
Rural Livelihood
Our Rural Livelihood Mission is a poverty alleviation project. The basic idea behind this program is to organize the poor into SHG (Self Help Groups) groups and make them capable of self-employment. We promote, train, and support collective efforts at cultivation and processing of medicinal plants in clusters through Self Help Groups, growers cooperatives/associations, producer companies, and such other organizations with strong linkages to manufacturers/traders and R&D institutions.
---
---
Want to Know More?
If you have queries, please call us to know more.
Call Now at +91 98312 13954
---
Contact Us
To know more about our services, please contact us.
HQ
Shantiniketan, WB, INDIA
Your message has been sent. Thank you!
---
Our Location
It is about 9.5km from Bolpur (Shantiniketan) and 6km from Prantik Railway station. Viswa Bharati, Rabindranath Tagore's dream Institution, and World-renowned cultural hub is just 7.5km away. While traveling from Bolpur, Kankalitala temple (about 1.5km away) falls on the highway. It is one of the 51 Shakti Piths described in Hindu scriptures. The Wellness Center spreads across 3 acres of land, more than 75% of which is green cover consisting of flower gardens, vegetable patch, trees bearing many kinds of fruits, and varieties of precious trees like shawl, teak, etc.